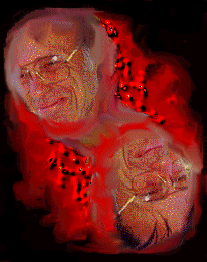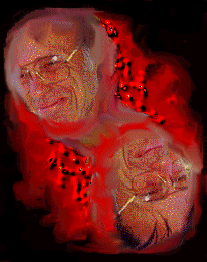 Dimension of Sheckley
Collection Reviews and Ratings *****
---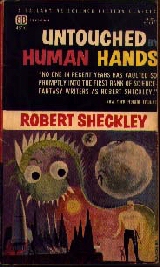 UNTOUCHED BY HUMAN HANDS (1954)

Thirteen early stories (1952-3) most of which stand the test of time pretty well. In "Specialist" a bizarre group of aliens combine to form a living spaceship. "Beside Still Waters" is an atypically melancholic story about isolation and loneliness (clearly influenced by Ray Bradbury). "The Seventh Victim" was later expanded into the novel "The Tenth Victim".
N.B. A version published by Four Square Books contains just ten stories. ****
---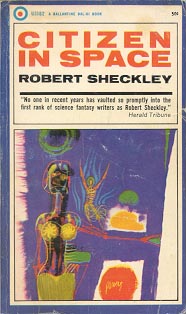 CITIZEN IN SPACE (1955)

Twelve stories Sheckley wrote between 53 and 55, chosen from around seventy he had published in that time. In "Ask a Foolish Question" (perhaps his finest ever story) various aliens talk to a machine which holds the secrets of the universe. "Skulking permit" is about a society without crime which tries to artificially create some (they realise the lack of crime will perturb Earth officials). A superior collection. *****
---
PILGRIMAGE TO EARTH (1957)

A collection of fifteen short stories covering 1952-56. Not really his best stuff, and a few of the stories have dated badly e.g. in "Earth, Air, Fire and Water" an astronaut on Venus burns his spacesuit in order to keep warm! The title story and "Bad Medicine" are the highlights. **
---
NOTIONS: UNLIMITED (1960)

Alternative title: "Gray Flannel Armor" (?)

A varied set of twelve stories from the fifties, with less emphasis on humour than most of his collections. "Paradise II" is a gruesome effort about a space station orbiting a dead planet. "A Wind is Rising" is an atypically conventional action story about a man fighting the elements in an alien landscape. My favourite from this book is "Double Indemnity", in which a man tries to cheat on his life insurance by travelling back in time. ***
---
STORE OF INFINITY (1960)

Guaranteed to Strain, Sprain or maybe even Snap the most Agile Imagination

Eight strong stories from the late fifties. One story is called "Triplication" and several of these tales involve people who have been split into three in various ways. The other main theme is death!

"The Prize of Peril" later became a french film. "The Humours" was later expanded into the novel "Crompton Divided". ****
---
SHARDS OF SPACE (1962) Sheckley hoovers up another eleven stories from his prolific first decade, this collection is solid but lacking real classics. "The Girls and Nugent Miller" is a typically unpredictable story about the last man on Earth and five surviving women. Perhaps the best story is "The Sweeper of Loray" in which an anthropologist completes his masterpiece "Underlying Causes of the Implicit Inferiority of Non-Terran Peoples". ***
---
THE PEOPLE TRAP (1968)

This book contains fourteen stories covering 1952-68. It's a real mixed bag in terms of both style and quality. In "The Laxian Key" Arnold can't resist swithcing on an alien machine despite having no idea what it makes. Another highlight is "Shall We Have a Little Talk?" in which a linguist is driven mad trying to work out an alien language. Mun mun, mun-mun. Mun mun, mun-mun? ***
---
CAN YOU FEEL ANYTHING WHEN I DO THIS? (1971)

Alternative title: "The Same to You Doubled"

Sixteen stories, mainly from 1969-71, by which time Sheckley was appearing in Playboy more frequently than Galaxy. This fact may have influenced the title story, which considers the sex life of a vacuum cleaner! "Cordle to Onion to Carrot" seems influenced by Sheckley's travels in Europe, and includes useful tips on how to be obnoxious in restaurants. Generally the writing style is more relaxed and confident than earlier stories. The collection also includes some deeply abstract efforts with titles like "Notes on the Perception of Imaginary Differences" which anticipate his insane "Options" novel. ****
---
THE ROBERT SHECKLEY OMNIBUS (1973)

A superb collection of twelve of his best stories 1953-59, which all appear in previous collections (six in "Citizen in Space"). "The Store of the Worlds", about a machine that lets you live in an ideal alternate world, and "Something for Nothing", about a wishing machine, are two of his most famous works. My favourite though is "Ask a Foolish Question" in which various aliens talk to a machine which holds the secrets of the universe. This anthology also includes the complete novel "Immortality Inc". *****
---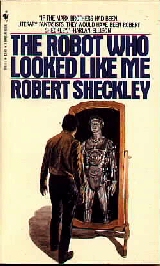 THE ROBOT WHO LOOKED LIKE ME (1978)

A strong round up of thirteen stories, including most of his output from 1972-8. In "Silversmith Wishes" a man is granted unlimited wishes in a clever variant of the classic "Something for Nothing". In "Is THAT What People Do?" a voyeur spies on people through a strange pair of binoculars. Also included is "I See a Man... ", his collaboration with Harlan Ellison. Sadly, this is the last collection of all previously uncollected stories that has been released. ****
---
THE WONDERFUL WORLD OF ROBERT SHECKLEY (1979)

A twelve story "best of" which concentrates on the fifties. The choice isn't quite as strong as "The Robert Sheckley Omnibus" (there's a five story overlap) but it's still a good introduction to his work. Highlights include "The Store of the Worlds", "Specialist" and "Shall We Have a Little Talk?" ****
---
IS THAT WHAT PEOPLE DO? (1984)

With 40 stories picked from over 30 years of writing, this massive volume acts as a summary of Sheckley's career up to this point. 24 of the stories are previously collected, though many of these have been revised for this volume. The uncollected stories include sharp miniatures from the early eighties like "The Last Days of (Parallel?) Earth" in which a group of people watch TV while the world ends. ****
---
THE COLLECTED SHORT STORIES OF ROBERT SHECKLEY (1991)

This is an expensive limited edition of 300 sets only. Each book is signed by Sheckley and the writer of the introduction (Zelazny, Resnick, Ellison, Knight & Jeter). They were also released individually as trade paperbacks, though these are scarce. The five volumes are mainly "2 in 1" reissues of previous collections:

Volume 1: "Untouched by Human Hands" plus "Citizen in Space".
Volume 2: "Pilgrimage to Earth" plus "Notions: Unlimited".
Volume 3: "Shards of Space" plus "The People Trap".
Volume 4: "Store of Infinity" plus 12 of the 16 stories in "Can You Feel Anything When I Do This?".

Volume 5: "The Robot Who Looked Like Me" plus 12 stories from "Is THAT What People Do?" plus 12 previously uncollected stories.

Fans might want to search for Volume 5, for the stories that are uncollected elsewhere. The dozen here (mainly from the late eighties) are very good. One highlight, "The Universal Karmic Clearing House", explains why Earth is literally out of luck.

---
MASQUE OF MANANA (2005)

This is a generous collection of 41 stories, full of classics that have been out of print for far too long. The focus is on Sheckley's best known work from the fifties, with only four of his later pieces included. The volume contains all eight AAA Ace stories ("Squirrel Cage" being previously uncollected). *****

---
WATCHBIRD (1990)

This is a sinister short story about robotic birds who police a city in the future. It first appeared in GALAXY magazine in 1953 and it also turns up in the collection "Notions: Unlimited".
In 1990 the publisher Pulphouse released this limited edition. All copies are signed by Sheckley and Frank Kelly-Freas (the illustrator).
---
XOLOTL (1991)

This is a short story packaged as a very slim paperback (#3 in a series by Pulphouse).
Xolotl is reincarnated as an Aztec mortal in (a rather cosy version of) hell. But who was he before?
A cute format for a slight story.
---
BACK