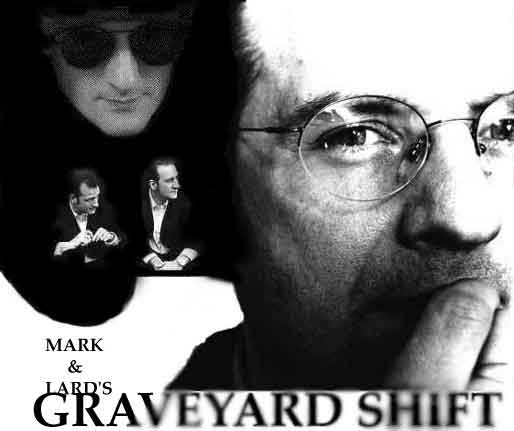 XMAS 2004 DOWNLOADS (thanks to Graeme & Bent Halo):
Whitetown Interview (3 minutes, 0.8 MB): Mark asks Jyoti Mishra just how much money he's going to make from 'Your Woman' (which is just about to hit number one). (Jan 1997)
Poetry Tips (2 minutes, 0.5 MB): With Harry Hill. (Feb 1996)
Cult Book Corner: The Bible (6 minutes, 1.4 MB): Martin Rowson gives the bible a seasonal kicking. (Jan 1997)
PREVIOUS DOWNLOADS (thanks to Daf & Steve):
Great Moments In Pop: The REM Story (4 minutes, 1.0 MB): Includes the classic ballad 'Everybody Burps'. N.B. The original sketches bear little relation to the daytime quiz of the same name.
The Bedsit Survival Guide: Bathtime (2 minutes, 0.5 MB): An installment from this invaluable series. Warning: contains spiders!
Throwing Muses Interview (4 minutes, 0.9 MB): Mark gives us a masterclass in professional interview technique. Singer/Guitarist Kristin Hersh giggles a lot.
This will probably be the last update of this site. However, I will continue to exchange CDs of mp3 clips with fans(click here to get in touch). I now have approx 40 hours of material(!), at much higher bitrates than the clips here (they were compressed to fit on the site). Especially wanted: material from the first year of the show and Drugstore live in session.

So bye for now, and see you over at Radio 2...
---
Hey, if you're here I presume you know what the Graveyard Shift was! If not then check out the excellent Unofficial Mark Radcliffe Site (this link is to an archive copy of the original site which is AWOL).
Mark and Lard presented this show between October 1993 and Febuary 1997. It was a mixture of records (no playlist!), comedy items and rambling chat. It was great, and the 10 to midnight slot meant the duo could basically do whatever they felt like, a far cry from the restrictions placed on their current daytime show.
The idea of this page is to provide some mp3 downloads from this classic show. I don't know the dates for all the clips, but where not stated they are probably later in the series, circa 1995/96. Click your right mouse button over the title and choose "save target as" to download the files.
---
OLDER DOWNLOADS (thanks to Robert Naylor & Daf Morris):
Creepers Ban (3 minutes, 0.6 MB): How come Mark Riley's legendary pop combo never get played on Radio 1? Lard suspects a Status Quo style ban.
Graveyard Shift Vs Evening Session (2 minutes, 0.3 MB): Which was best?
Andrew Collins' 1973 Diary (5 minutes, 1.2 MB): Forget I Love the Seventies, this is how it really was. Plus: Mark's moving poem "Misty Street". (May 1995)
OLDER DOWNLOADS (thanks to Daf Morris):
Xmas Carol Medley (5 minutes, 1.1 MB): Mr. Methane joins the crew to attempt a medley of 'Rudolph The Red Nose Reindeer' and 'Jingle Bells'. Who said fart jokes were the lowest form of humour? (December 1994)
And here's some more: Mr Methane Performs Another Carol Medley (3 min, 0.7MB).

Tony McCarroll's Classical Gas (4 minutes, 1.0 MB): The former Oasis drummer rocks up Vivaldi's 'Four Seasons'. (May 1996)
Richard and Judy (4 minutes, 0.9 MB): Katie Puckrik (the sexy American one) recovers from the ordeal of a makeover on this daytime TV show. (August 1994)
OLDER DOWNLOAD (thanks to Steve Clappison):
Wheel Of Misfortune (7 minutes, 1.5 MB): Lauren Laverne takes part in this quiz (which is totally different to Circle Of Chance). Can she beat the scores of her band mates in Kenickie?
OLDEST DOWNLOADS (thanks to Jonathan Tranter):
Lard Dancing (4 minutes, 0.9 MB): Why is Lard dancing around the studio? Maybe a newsflash about teen pop sensations Take That will explain things.
"I Slap My Belly" (5 minutes, 1.1 MB): Edward Barton joins Mark and Lard in the studio for a live performance of his song "I Slap My Belly". Must be heard, if only to be believed. And you thought Blue Jam was disturbing! I cannot accept responsibility for trauma caused from listening to this item - you have been warned. (July 1995)
Wondering who this strange man is? Try The Unofficial Edward Barton Web Page
Blackmail Corner: "Common People" by Pulp (4 minutes, 0.9 MB): Mark has found out that this hit single sounds suspiciously similar to an obscure Spanish disco track. But is Jarvis Cocker prepared to pay to keep him quiet?
---
Is that all there is?! Sorry, I don't have any more spare web space right now.
Do you have any Graveyard Shift material to contribute?
If so, you can e-mail me by clicking here: Marcos
Someone somewhere must have converted a load of these shows to mp3. I've got quite a bit of Mark and Lard stuff I could swap for it (plus other comedy stuff related to the links below).
I now have several CDs with approx. 40 hours of Graveshift Shift!
---
Links: Comedy on Radio One (MP3 Downloads)
Fist Of Fun - Lee and Herring
The Mary Whitehouse Experience
Cook'd And Bomb'd - Chris Morris
Radio Station Links:
BBC Radio 2 - Mark's new home
BBC Radio 6 - Digital station also known as 6 Music. Lard's new home.
BBC Radio 7 - This new digital station is repeating tons of classic comedy
Resonance FM - Stewart Lee does a show some Sunday afternoons (12-2pm). A great show, very much in the Graveyard Shift style. The station is London only, but you can listen on the web. If you have any shows on mp3 then get in touch!

---
This page was last updated: December 2004
Stop...