Magazine Covers
---
Here are some science fiction magazine covers from the fifties, the emphasis is firmly on scantily clad women in ridiculous situations. Click on the pictures for a larger image.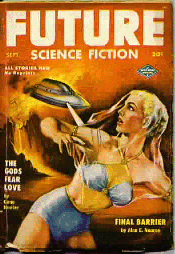 Future Science Fiction: September 1952

If it's sunny wear a bikini, if it rains cover yourself with cling film.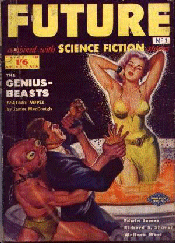 Future Science Fiction: November 1951 (UK edition)

I feel so sexy standing in this giant bowl of soup.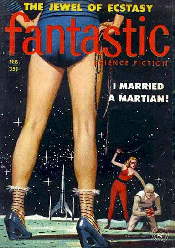 Fantastic Science Fiction: Febuary 1958

She's got legs, she knows how to use them. Has Russ Meyer made the film yet?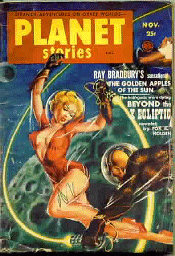 Planet Stories: November 1953

I hate it when my light sabre goes all floppy.

For more covers like these check out these sites:

The Pulp Zone A useful overview

Fantastic Collectibles The biggest collection I've seen

Pulp Magazines More good stuff

SF digest magazines This site in Japanese!

Famous Brassieres of SF Calendar A scholarly effort

Waystation Central Includes a strong page of links